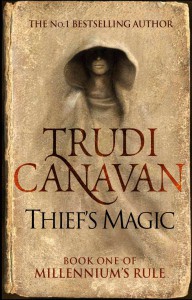 A highly enjoyable read, I read this, cover to cover, in a few days because I really wanted to know what Trudi Canavan had come with this time. I have already read and enjoyed her other trilogies so I knew what to expect in terms of quality of writing.

This is a fantasy novel principally about two characters, Tyen and Rielle, apparently from two different worlds and their interaction with magic, one in a world where magic is respected and used by nearly everyone, one from a world in which magic is denied, hidden and used only by a select few. The books is divided into parts which alternatively deal with Tyen or Rielle but they never meet – perhaps this is to come in the other parts of the trilogy.

It is well-written and engaging and hopefully the subsequent parts of the trilogy will continue this trend. I have always been impressed with Trudi Canavan's writing up until now and this confirms her ability to enthral the reader.

There are many imaginative aspects to the work as one would expect from a fantasy novel and the author does not disappoint.

Recommended to anyone who enjoys a well-constructed fantasy novel, such as those written by Robin Hobb or Karen Miller.